ABABEEL TRADING L.L.C.
Ababeel Trading LLC - Excellent Grade Company
Ababeel Trading LLC is one of the Professional leaders in Security Solution Providers in Sultanate of Oman. Our company was established and registered in the year 2002.
We are registered with Royal Oman Police (ROP), Internal Security Services (ISS) & Ministry of Defense (MOD).
Our Mission: Your Security and Safety - Our Priority.
Our Vision is of being the most admired and market leader in providing complete security systems and solutions for large, medium and smaller projects with expansion potential.
Ababeel Trading L.L.C. got an ISO 9001:2015 Certificate

(Quality Management Systems) in Feb, 2017.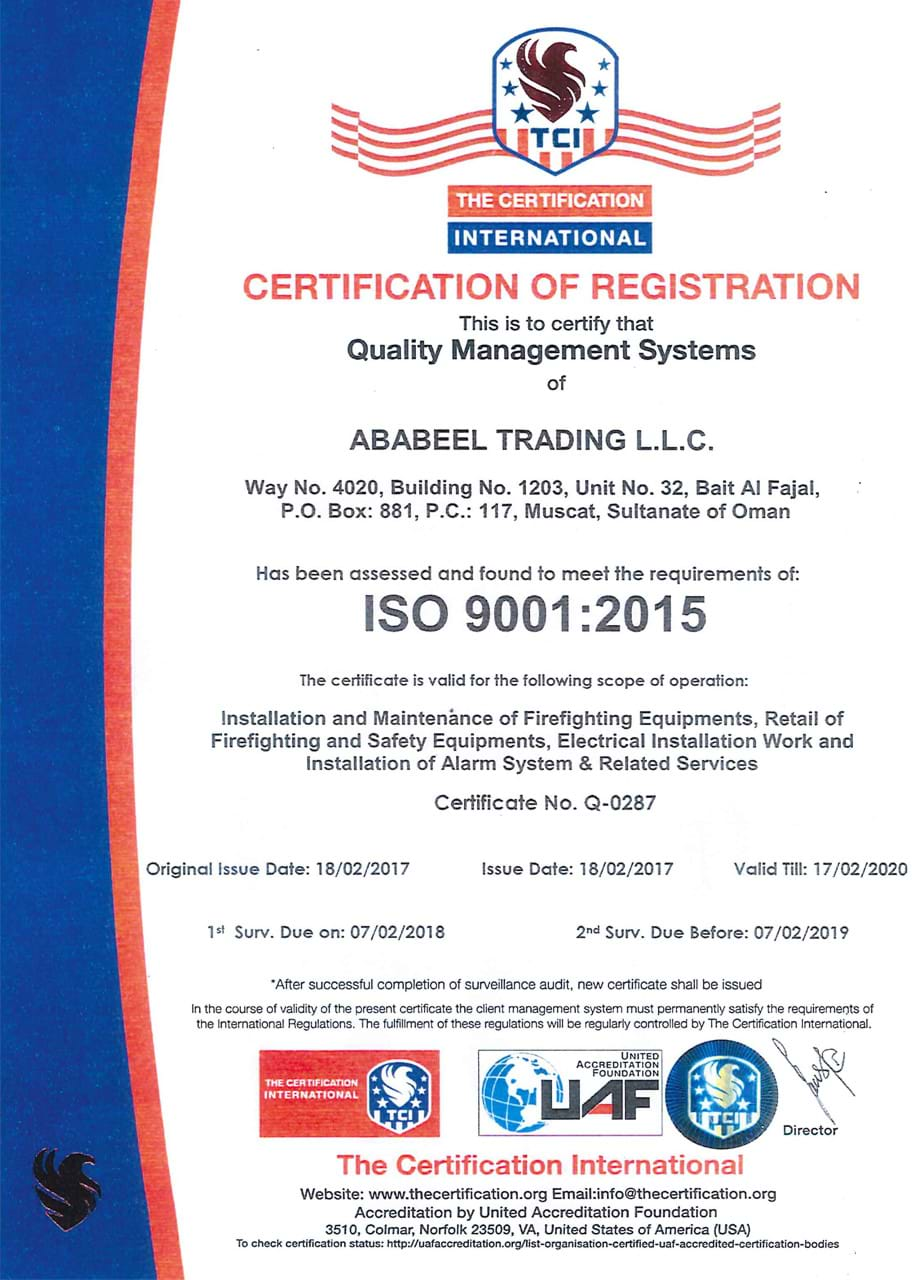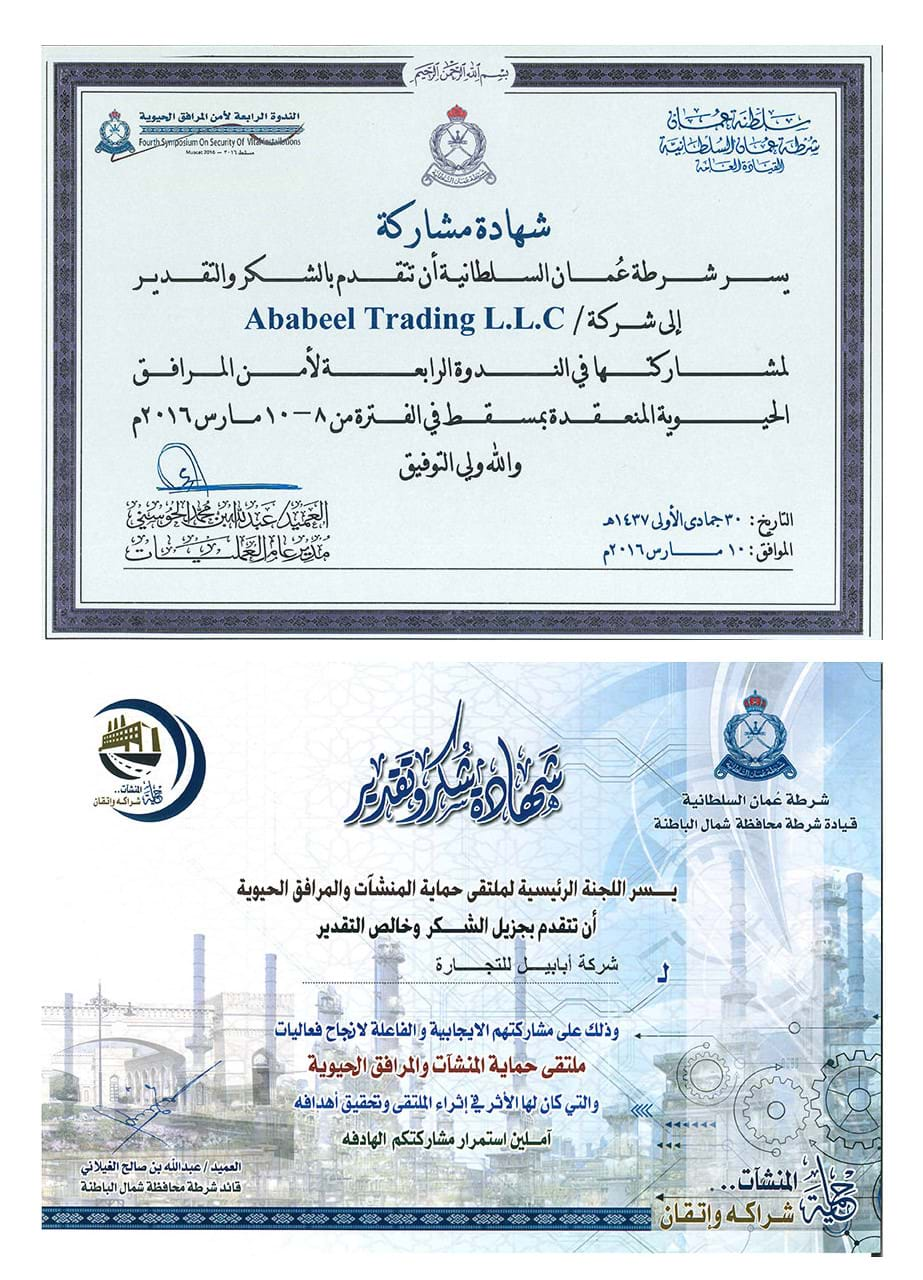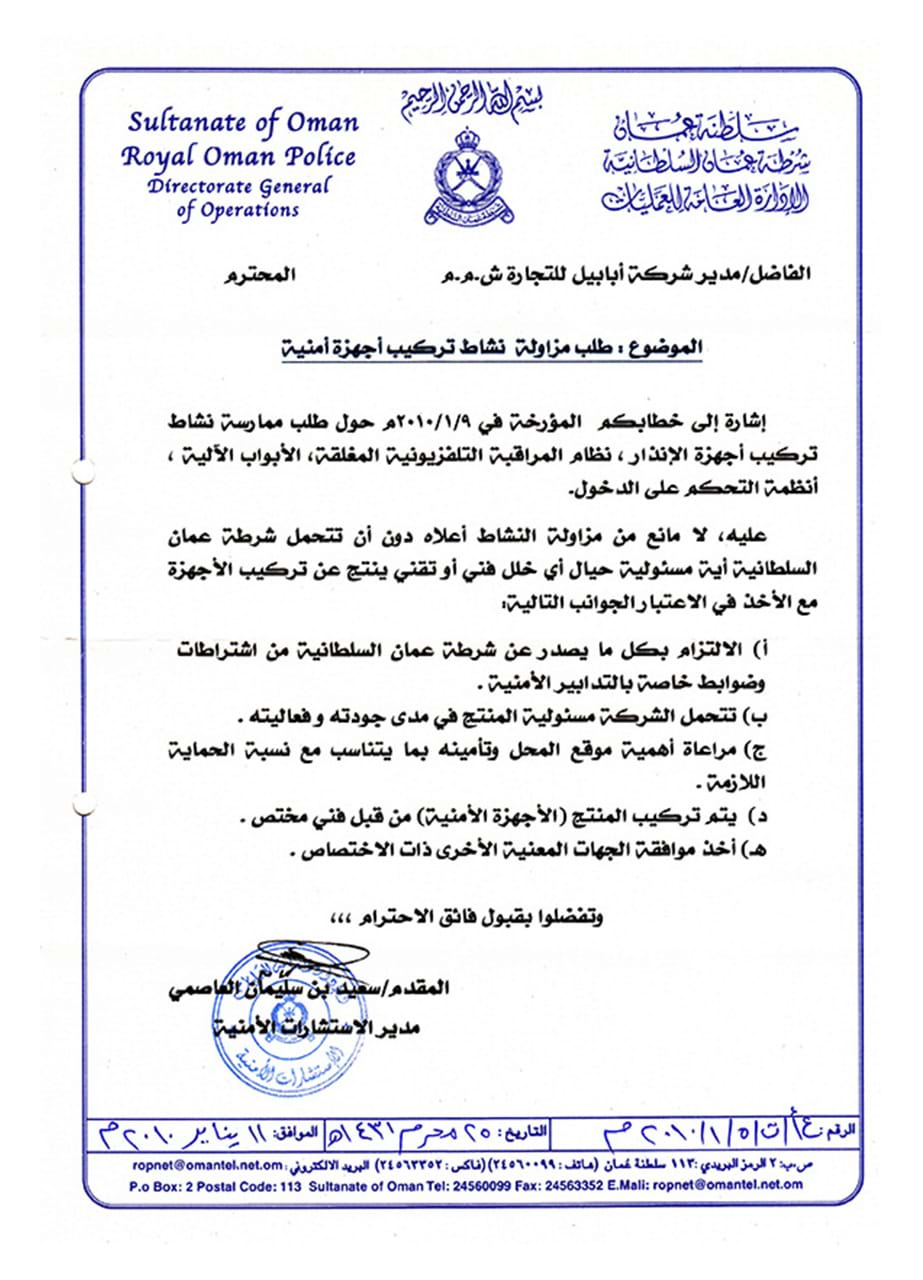 Our Key Areas of Focus:
Security Systems Division

a. CCTV Systems and Security Alarm Systems
b. Access Control and Attendance Systems

Fire and Safety Division

a. Fire Alarm Systems
b. Fire Suppression Systems
Structured Cabling Division
Information Technology Division

a. Website and Software Solutions
b. Hardware Supply and Service
Our Coverage:
We currently service the following market segments – Commercial, Institution, Hospitality, Retail and Industrial segments. Our products are cost effective and its installations are easy and we take pride in our prompt maintenance and service activities too.
Our Team
We have factory trained technical team with a team size of 35 employees. Our technical department includes R&D, Customer Support, Installation and Service. Our team represents our company on daily basis and our code of ethics, company policies and procedures will ensure that they are presentable, efficient and at all times ready to serve our clients.
Our good quality CCTV systems are elegant and efficient, which provide clear pictures even in dim light. Its intelligent and professional DVR can be set to any desirable mode such as timed recording, motion recording, time search etc.
License and Awards
We are an ISO certified organization with license from the Royal Oman Police, Security and Safety Services and The Ministry of Civil Defense. We are the only Security company locally addressed and presented the technological seminar of ROP- RFID (3rd Symposium on Security of Vital Installations)